Oboe Links
Founded in 1881, F.LORÉE is the oldest firm specialized
in the Oboe manufacture.
OBOES - ENGLISH HORNS - OBOES D'AMORE -

BASS OBOES and PICCOLO OBOES
The student model is made under the name "CABART".
Marigaux is the first oboe maker to receive the FSC 100% label, awarded in July 2012.

Howarth of London are now internationally known as makers of the finest oboes, oboes d'amore, English horns and clarinets.

Italian company with excellent handmade quality Oboe, Oboe d'amore, English Horn.
James Turnbull's new website - set up to help make it easier to find out more about the oboe and how one goes about learning to play the instrument.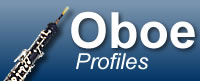 Oboe Profiles provides an easy way for professional oboe players and teachers to promote themselves online.

Reed n Stuff Great reedmaking and oboe specialist supplier in Germany
KREEDO Specialist suppliers of oboe materials in Frankfurt, Germany
The Oboe Shop had a great display of Oboes and Cor Anglais at the recent Big Double Reed Day at the Guildhall. London.